How to Unlock the Potential of Automation with Freight Broker Software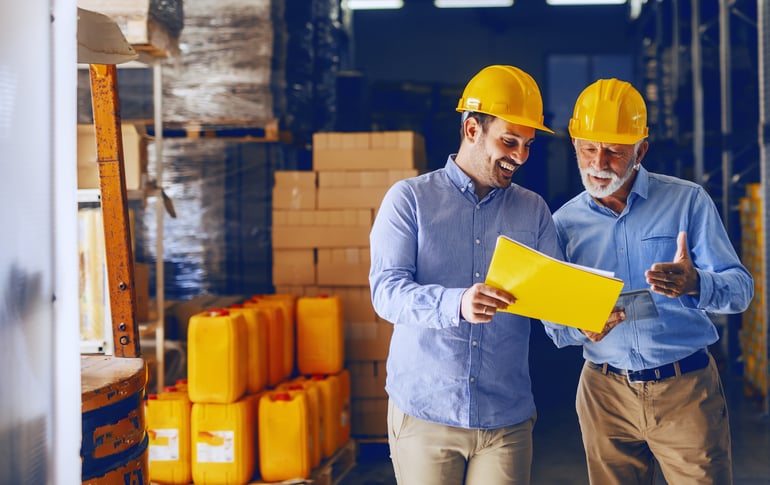 You power up your computer and begin your workday. But when you start working, you're forced to jump between several software systems.
You have invoicing software, project management tools, a customer database, and an array of other programs.
Does this sound familiar?
What if you could manage your entire organization within one dashboard?
This is where freight broker software can help.
It combines everything freight brokers use to manage operations, organized under one digital roof.
In this guide, we'll talk about how you can unlock the potential of automation with freight broker software.
What is freight broker software (and what does it do?)
Freight broker software is a transportation management tool that streamlines almost everything freight brokers do. This includes:
Helping them handle dispatch
Monitoring deliveries and routes
Invoicing customers and paying carriers
Professionals not using automation software often switch between applications to complete different tasks. For example, if they are invoicing carriers, they'll go to their invoice manager. And when it's time to handle deliveries and routes, they'll head to a project management tool.
With freight broker software, you can say goodbye to all that!
Good freight broker software is like a one-stop shop for daily tasks.
When you sit down behind your computer screen, you don't have to leave your freight software dashboard.
This allows you to manage everything from one screen. You won't have to switch between screens and applications.
How can freight broker software help your business?
Here are some ways freight broker software can help your business:
Efficient shipping
Better customer service
Cost savings
Greater shipping insight
Increased profits
More efficient shipping
More and more organizations are starting to utilize freight broker software because of the increased efficiency.
For instance, with Cargobot's cloud-based interface, you can track shipments in real-time, streamline front and back office tasks, and build local freight networks.
Better customer service
Because you're using automation to manage your freight brokerage, you enhance the customer experience. This is because you track real-time shipping, and get on top of any issues before they pop up.
If there's a hiccup and it's out of your control, freight broker software will send an automated message to the customer, letting them know about the issue.
Cost savings
You can save thousands of dollars on labor by using freight broker software. There's no need to manually manage customer information, calculate loads, and send quotes. Simply let the automated software do it for you.
This takes a lot of strain off your workforce as they won't have to complete as many tedious tasks.
Greater shipping insight
Freight broker software gives you insight into the shipping process because you can see where your cargo is at all times. From here, you can double-check that goods are delivered on time and that there are zero problems.
With Cargobot, you get real-time updates regarding where your shipment is, so you can have full confidence knowing that everything is going according to plan.
Increased profit
All these benefits ultimately lead to one thing; increased profit.
You're automating repetitive administrative tasks, freeing up your workforce and allowing them to focus on what's really important, streamlining the shipping process and increasing profitability.
The benefits of automation in the inland freight industry
Automated supply chain systems: Freight broker software uses automation to streamline every aspect of your business, from accounting to order placement and customer service.
Forge new relationships: Good freight broker software should let you forge direct relationships with shippers and carriers. With Cargobot Direct, this process is quite easy and only takes a few minutes.
Full process transparency: Another significant way in which freight software benefits your business is the transparency it provides across the entire shipping process. This allows you to spot and avoid delays before they occur.
How to get started with freight broker software
If you're trying to get started with freight broker software, follow our three-step guide:
Consider the features that are most important to you
Request a demo
Start integrating it into your work processes
Step 1: Consider the features that are most important to you
The first and most important step is analyzing your business needs and identifying features that are important to you.
For example, let's say you're currently struggling with order entry and overview. It's time-consuming to enter order details like weight, dimensions, cost, and destination into a database all the time.
And once these items are listed in your database, you cannot get a clear overview of routes and assigned transports.
In this case, you could use automation software that emphasizes order entry and management.
But regardless of what your business needs are, these are some features that every freight broker software must have:
Tendering
Load planning
Fleet management
Invoicing and accounting
Route analysis
Step 2: Request a demo
Once you've found automation software with the features needed to streamline day-to-day activities, request a demo by heading over to the vendor's website.
Cargobot offers the features mentioned above, plus more. So all you have to do is give us a call, and one of our account managers will walk you through everything you need to know.
Step 3: Start integrating it into your work processes
Now comes the fun stuff: Integrating your new freight broker software into your professional life.
When integrating Cargobot Direct into your organization, our customer success team will provide you with a step-by-step process to ensure zero hiccups. If you do encounter a problem, simply contact us, and we'll assist immediately.
Questions to ask before purchasing freight broker software
Are you thinking about using freight broker software? Great! Here are three questions to ask yourself before choosing a vendor:
Does the software vendor meet my business needs?
Is there a conflict of interest?
Is the vendor a long-term option?
Does the software vendor meet my business needs?
The most crucial factor to consider is how the software will fit the needs of your business.
You want a software product with a lot of flexibility and isn't just meant for one use case. Good freight broker software understands your industry well and what problems you're facing. From here, they should have features that streamline these areas.
Is there a conflict of interest?
It's always a good idea to look at the shareholders and founders of a specific freight automation application. Do these shareholders own a large number of shares in a company that you're competing with?
Any conflict of interest will immediately rule out a software product from consideration. This is because you're storing terabytes of sensitive company and client data. Will you be comfortable with your software provider and competitor being the same organization?
Probably not.
So before partnering with freight broker software, look out for any conflict of interest.
Is the vendor a long-term option?
Investing in freight broker software is a long-term deal.
You'll use this software to manage day-to-day activities for the next few decades. Not to mention that switching between vendors is a hassle and can put your entire organization on pause.
So you also want to consider the financial health of the vendor. Are they able to keep their doors open in the long run?
Tips for getting the most out of your freight broker software
Consider these best practices when trying to get the most out of your freight broker software:
Create transparent shipping
Explore alternative shipping routes
Embrace automation
Create transparent shipping
Letting customers know the location of their orders is a huge part of the customer experience.
But this benefits your employees too.
When an employee sees that a delivery might not arrive in time, they can tell customers why the delay happened and when they can expect the delivery.
Fortunately, Cargobot Direct uses technology to ensure the shipping process is seamless and transparent to everyone.
Explore alternative shipping routes
It's also a good idea to reconsider your shipping routes if you've been using them for a while.
New infrastructure, traffic patterns, and GPS technology might mean more efficient shipping routes available that you might not have noticed before.
When you use Cargobot, you can find the most efficient route to your destination within seconds, allowing you to save time and money.
Embrace automation
We know, automation can seem scary. But if you're running a large freight operation, automated systems are a must.
This is because if you're manually inputting data, the chances of errors increase. Without automated freight broker software, finding out what went wrong can be near impossible.
So when you're trying to unlock the potential of freight broker software, embrace automation. It reduces the chances of human error and if something goes wrong, you can spot it ahead of time and proactively work on it.
Streamline freight operations with Cargobot Direct
Freight broker software is a must. It lets you manage everything from operations to routes and invoicing from one screen. No longer will you have to switch between several applications to get a few basic tasks done.
If you're considering signing up for freight broker software, try Cargobot Direct. Our proprietary software is free for all shippers working with us. What's more? Our dedicated shipper representatives can manage the entire process for you!
Our array of next-standard digital freight solutions helps you book, track, and deliver freight payments. We also provide complete transparency into the shipping process so that you can create frictionless workflows. Contact us today for a free Cargobot Direct demo!
Topics: Shippers, Cargobot Direct