How PTL Shipping Companies Can Keep up with the Latest Technology Demands
The shipping and logistics industry has traditionally been slow to embrace new technologies. However, the increasing consumer demands and the need to stay competitive have shifted the tides. Now, over 67% of firms in the industry say they are keen on digitizing their processes.
Today's business environment is quite demanding as global supply chains become increasingly connected, and consumers become more complicated. This underscores the need for partial truckload (PTL) shipping companies to adopt digital solutions and streamline their processes.
---
How to Keep Up With PTL Shipping Technology Demands This Year
PTL companies can improve efficiency by adopting technology and monitoring industry trends. This post will explore how PTL businesses can stay up-to-date with innovative tech solutions to drive growth, address different demands, and improve their freight shipping processes.
1. Invest in New Software and Hardware
Efficiency, optimization, timing, and speed are crucial in the shipping and logistics industry. These aspects are even more important as the world shifts to a real-time economy, and the only way to catch up is to invest in new software and hardware solutions.
Technology offers different solutions ranging from fleet management to demand forecasting to support various processes in PTL shipping. This results in improved efficiency and productivity, reducing operational costs and optimizing supply chain operations.
For example, in analytical operations, you can use technologies like Artificial Intelligence (AI) and Big Data to improve forecasting and anticipate consumer needs. Digital freight solutions like Cargobot Pool offer a platform for finding shippers and carriers for PTL shipments.
You can also ensure fleet safety with electronic logging devices (ELDs), which logs truck drivers' hours of service (HOS) to ensure your fleet operates within requirements. Another example is trailer tracking technology, which can help locate your assets and improve their utilization.
2. Partner with Technology Companies
PTL shipping companies have different fleets, warehouses, and tracking tools that they don't use to their full capacity. Sometimes, these systems tend to cause disparate operations, scattering data, complicating workflows, increasing operational costs, and decreasing productivity.
Instead, you can partner with technology companies to optimize your technical systems and supplement your core tools with apps, plugins, and integrations. Tech partnerships help to break into new markets, bridge gaps in product features and increase product stickiness.
For example, your tech partner can help with electronic data integration, allowing your team to aggregate disparate data via API, XML, FTP, JSON, and Flat Files. If you offer various shipping services, a tech partner can deliver custom pricing tools to provide competitive freight rates.
Tech firms also have partnership programs, and Cargobot's partnership program is a good example. The program brings carriers, tech partners, capacity partners, sales partners, and strategic partners together to boost freight efficiency, productivity, and profitability.
3. Hire Skilled IT & Tech Talent
Investing in software and hardware solutions is not enough to address the typical inefficiencies in the transport and logistics industry. You'll need to find the right tech talent to maintain and oversee the implementation of your technology solutions.
Hiring great tech talent allows you to harness the full power of technology and remain competitive. Skills like customer experience design, data management, software engineering, analytics-based automation, and cybersecurity are essential for today's shipping companies.
Such skills are in high demand as IT systems become more complex and new technologies like machine learning and AI emerge. Take the time to review your processes and systems to understand the type of talent you need at the granular level.
While at it, it's vital to note that hiring every tech talent you need is impossible, given today's tech talent shortage and the competition for the small talent pool. So, reskilling and training your existing workforce should be part of your talent acquisition strategy.
4. Attend Trade Shows and Conferences
Staying abreast of the transport and logistics trends is essential in learning innovative shipping technologies and consumer preferences. Industry trade shows, conferences, and events allow you to do so. Plus, they also offer a platform for marketing and networking.
For example, the American Trucking Association (ATA) hosts annual events for networking, educational programs, and meaningful discussions. This gives you a chance to learn the overall state of the industry and connect with tech companies and manufacturers.
For tech-oriented events, Consumer Technology Association (CES) offers the best platform for learning new trucking technologies. For example, the 2023 CES had great displays, such as advanced driver assistance systems (ADAS), innovative tires, vehicle autonomy, etc.
Other great trade shows and conferences to attend include Work Truck Week, Mid-American Trucking Show, Expedite Expo, TMC Annual Meeting, and the Work Fleet Forum. You should identify 3 to 5 events to attend yearly to learn industry trends and build your network.
5. Stay Up-to-Date on the Latest News and Developments
The shipping industry is quite dynamic, witnessing tremendous changes every year that impact the overall landscape, including shippers' performance. As a result, staying current on the latest news and developments within this space is essential.
For example, harsh market conditions have forced many companies to close or merge with other companies, especially during the pandemic. A shift in production locations like Tesla's move to Texas affects trucking routes, and knowing how this will impact your operations is critical.
Other factors you need to monitor include the influence of e-commerce, changes in freight rates, market flips, fuel costs, urbanization, and digital transformation. Attending events and subscribing to news sources like Overdrive, CCJ, Land Line, and Fleet Owner can be helpful.
Learn more about choosing the right partner for your PTL transport solutions in 2023 with our
free guide
.
---
How Cargobot Helps Strengthen the PTL Industry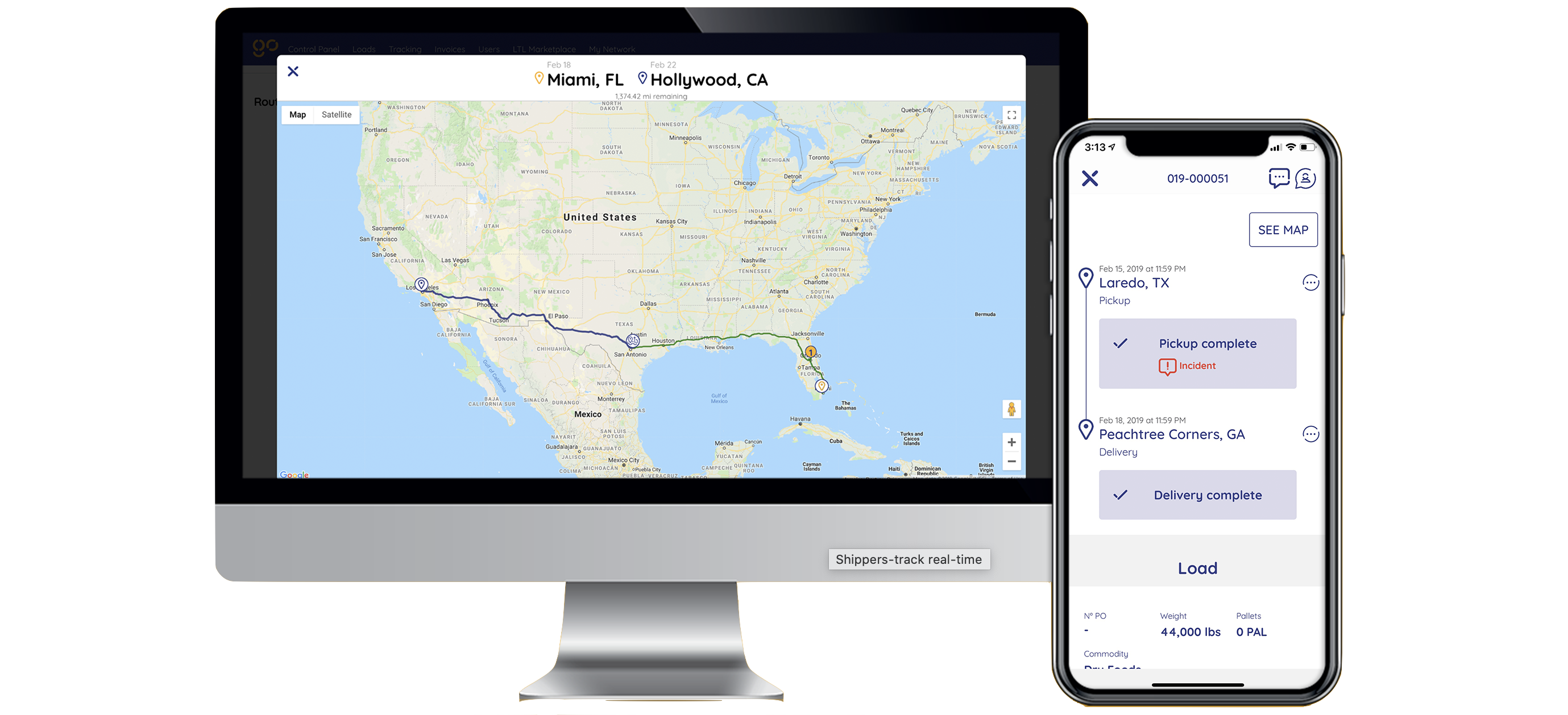 As the freight industry embraces digital solutions, Cargobot is keen on working with shippers and carriers to revolutionize their processes. We offer different solutions to help carriers and freight forwarders challenge the status quo and stay ahead of the ever-changing industry.
These solutions include Cargobot Direct, Cargobot Pool, Cargobot SaaS, and Zilla Freight. With these tools, shippers can keep their production lines running smoothly, save more time, and protect their freight from dock to dock.
The tools help carriers to reduce deadhead miles, seize more lane opportunities, and take advantage of real-time transit support to ensure faster arrivals. Our tools also help freight forwarders to build robust digital infrastructures, find the best rates, and ship goods quickly.
In a nutshell, Cargobot is committed to delivering innovative, turnkey technology-focused solutions to simplify and streamline inland freight processes. Our digital tools offer real-time visibility into shipments, empowering shippers and carriers to drive real growth and change.
The Benefits of Using Cargobot Pool
Technology is crucial in helping shippers achieve operational efficiency and streamline their processes. As a result, our solution, Cargobot Pool, offers PTL shippers an innovative platform for efficiently moving dry and refrigerated freight. Here are the benefits the solution provides.
Better freight consolidation: Cargobot Pool consolidates similar PTL shipments for efficient shipping and faster deliveries. It optimizes your freight pickups and deliveries without overhauling your existing workflows.
Enhanced sensitive freight protection: Poor product handling and delivery speeds affect dry and refrigerated loads. With our solution, loads experience less handling to avoid damage, and optimized shipping routes ensure fast freight speeds.
Access to a nationwide carrier network: The platform offers shippers and freight forwarders access to a network of national carriers. Its sophisticated matching capabilities link you to the best carrier for on-time delivery at competitive rates.
Streamlined operations: Cargobot Pool automates time-consuming tasks in your shipping processes, including order management, billing, and tracking. Plus, it allows your sales, logistics, and transportation planning departments to collaborate better.
Generally, Cargobot Pool allows you to harness the power of freight consolidation to ensure unnecessary load damage and fast freight times. It also reduces the number of vehicles needed to move products, ensuring a small carbon footprint with each load for environment-friendly operations.
---
Drive Digital Transformation with Cargobot's PTL Solutions

Digital transformation is crucial to the success of any modern business. As technology advances, the freight industry shouldn't wait to play catch up. Instead, shipping companies should exploit new technologies and solutions to drive growth and support efficient processes.
Today's freight system is slow, expensive, and prone to product damage. It's also highly susceptible to global crises, weather elements, and material shortages, disrupting production lines and leading to product spoilage in some cases.
Thankfully, digital freight solutions can address such challenges by offering better insights into supply chains and connecting shippers with carriers. We understand that change doesn't happen overnight, but tech solutions allow you to make essential steps toward digitization.
At Cargobot, we offer innovative solutions to improve the entire transport process for PTL freight shipping. Partner with us and let today's technology help you move dry and refrigerated freight more efficiently.
---
More Resources to Explore:
Topics: Cargobot Pool